+++++++++++++++++++++++++++++++++++++++++++++++++++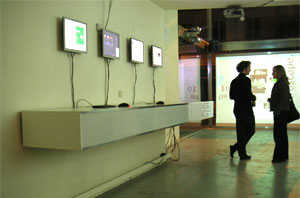 MEDIARUIMTE [ XYZ 01T, brussells ] hosts _knowscape mobile from april 14th to 21st 2005. through a boolean operation (union), electronic and physical spaces are gathered into a mixed reality.
the scale of _knowscape mobile at MEDIARUIMTE, Brussels is set according to the size of the building and its floors: the cubes generated by visited web pages, translated from HTML to VRML, from 2D to 3D, fit into the built space, between floor and ceiling. they pile up to fill the environment with distributed spaces made out of knowledge, information and sounds. the result mixes the physical architecture of the gallery with a space mostly populated and generated by bots and webspiders.
through a logical operation (union), electronic and physical spaces are gathered to create a new kind of architecture: geolocalized and distributed, material and non-material.
electronic devices (desktops, laptops connected to TFT displays, beamers, ...) open 'windows' from the lobby on this re-localized data territory. instead of a 'cave' system, which offers one point of view, these visual outputs are coordinated to create an unlimited series of localized and connected views: each of them has its own point of view but is linked spatially to the others. the gallery becomes the (multi-)viewer.
_knowscape mobile at MEDIARUIMTE is thus an architectural space associating a distributed territory of data and a physical localized space during a defined period of time, linking architecture, knowledge and browsing.
+++++++++++++++++++++++++++++++++++++++++++++++++++
+++++++++++++++++++++++++++++++++++++++++++++++++++
April 14, 2005 (18:00 - 22:00 GMT+1)
_knowscape mobile at MEDIARUIMTE, Brussels
Opening
MediaRuimte [ XYZ 01T ]
104 rue de laeken, 1000 Brussels, Belgium [map]
+++++++++++++++++++++++++++++++++++++++++++++++++++
April 15, 2005 (20:30 - 22:00 GMT+1)
Information Architecture, Artifices and S(t)imulated Spaces
Conference by Christophe Guignard, fabric | ch
MediaRuimte [ XYZ 01T ]
104 rue de laeken, 1000 Brussels, Belgium [map]
+++++++++++++++++++++++++++++++++++++++++++++++++++
April 14-21, 2005
_knowscape mobile at MEDIARUIMTE, Brussels
Every day from 18:00 – 22:00 GMT+1
MediaRuimte [ XYZ 01T ]
104 rue de laeken, 1000 Brussels, Belgium [map]